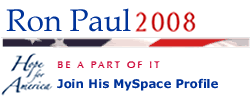 Yeah, yeah...I know.... Ladies don't usually blog about politics.
But this time it is important.
More important than breastfeeding.
More important than midwifery (my current passion).
It is about the future of this country.
The future of YOUR children, and mine.
The future of all of those thousands of American soldiers over in Iraq.
They too, are some one's children.
And Ron Paul wants to BRING THEM HOME. NOW.
So. Could you take a moment to learn WHO this guy is?
Ron Paul is a true freedom loving statesman, and a Republican candidate for the
Presidency, 2008.
He is a Texas Congressman. And he wants to fix what is WRONG with this country.
He is unlike any other candidate.
Watch one You Tube video, or Google video, and see for yourself.
He is amazing.
He will blow you away.
I double dog dare you to watch just one clip of him. Do it.